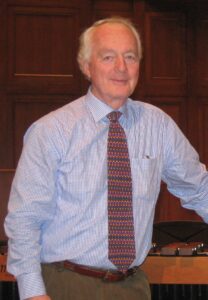 Composition is an area of music that slowly evolved to prominence in Paul Gay's musical life. Primarily he was a performer in all of Boston's elite musical groups, Boston Symphony & Pops, Boston Opera, and Boston Ballet. As a conductor he led various New England regional orchestras, with a highlight credited by the Boston Globe as one of Boston's "Top Ten Performances of the Year" with his leadership of Puccini's La Boehme.  One of those regional orchestras received a grant from the National Endowment for the Arts.
Paul's writing began while an Opera Major Undergrad at Boston's New England Conservatory of Music. With its Third Stream Big Band it provided a natural outgrowth from his early rural Jonesboro Maine high school years improvising in jazz. In the ensuing years writing was a private matter for the most part, without any effort toward promotion. Works now include solo piano, song cycles, chamber music, ballet and symphonic works. His Bacchanalian Alarum fanfare began festivities for the Boston Symphony's 100th Anniversary celebration party. A recent highlight was the Buffalo Philharmonic Orchestra premier of the Finale from the ballet "Due Sorelle".
In February '20 Paul was in St. Gallen, Switzerland and Amsterdam for CD recordings of his songs for voice and piano by TRPTK records. The soloists were soprano Madison Denise Leonard (winner of the 2018 Met Opera's world-wide competition for emerging vocalists), Baritone/Tenor Shea Owens, soloist with the St. Gallen Opera Company, and accompanist Artem Belogurov, keyboardist with the Concerto Köln.
Ballet Vero Beach (Florida) has created ballets on three of Gay's works and devoted an entire performance series to them in their 2019-2020 season.   
Bis Record label, with a grant from BBC, has released a CD of Sonatas by three American composers: Andre Previn, Anthony Schemmer and Paul Gay, in November of '21. In conjunction with the CD release, BBC hosted a premier concert on November 8, 2021 at London's famous Wigmore Hall. The wonderful emerging artists are Violinist Aleksey Semenenko (Silver medalist the Queen Elisabeth Competition) and pianist Artem Belogurov, keyboardist with Concert Köln. Please visit https://bis.se/crossroads-american-violin-sonatas for more information.
Recent composing projects include "Macbeth's Soliloquy from Scene V" for Baritone voice, 'Cello and Piano on text of Shakespeare; songs on poems by Emily Dickinson and Rachel Field;  a large symphonic work "The Spin Skater Episodes" (15 episodes in the life of a young skater); and "North Atlantic Sea Songs" a set of six pieces for orchestra.