RELUCTANCE (Robert Frost)
Shea Owens, baritone
Artem Belogurov, piano
GOING FOR WATER (Robert Frost)
Madison Leonard, soprano
Artem Belogurov, piano
PAN WITH US (Robert Frost)
Shea Owens, baritone
Artem Belogurov, piano
STARS (Robert Frost)
Madison Leonard, soprano
Artem Belogurov, piano
SNOWFLAKES (Paul Gay)
Shea Owens, baritone
Artem Belogurov, piano
WIND AND WINDOW FLOWER (Robert Frost)
Madison Leonard, soprano
Artem Belogurov, piano
PEONY (Paul Gay)
Shea Owens, baritone
Madison Leonard, soprano
Artem Belogurov, piano
HAVE YOU GOT A BROOK IN YOUR LITTLE HEART (Emily Dickinson)
Madison Leonard, soprano
Artem Belogurov, piano
TO THE THAWING WIND (Robert Frost)
Shea Owens, baritone
Artem Belogurov, piano
NOW CLOSE THE WINDOWS (Robert Frost)
Madison Leonard, soprano
Artem Belogurov, piano
DESCENDING INTO DREAMS (SEABREEZE) (Paul Gay)
Shea Owens, baritone
Artem Belogurov, piano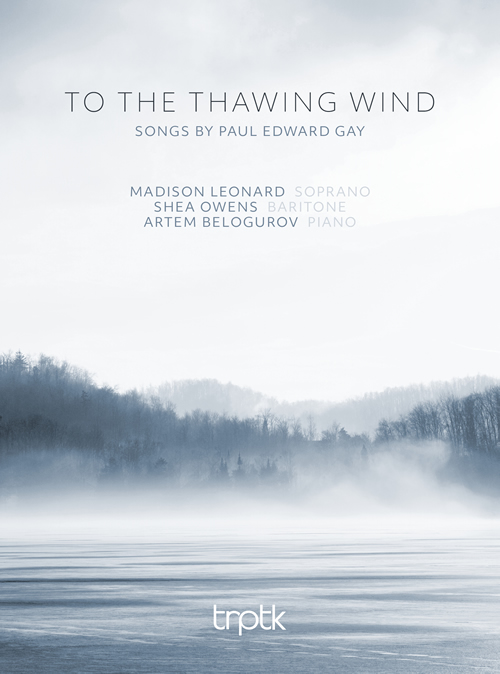 Review by Cyriel Pluimakers
Touching music
Taking the oeuvre of poets like Robert Frost, Emily Dickinson and his own work as his starting point, Gay has made an album for the leading Dutch TRPTK label that focuses on the art of classical song. Together with soprano Madison Leonard, baritone Shea Owens and pianist Artem Belogurov, Paul Edward Gay demonstrates how irresistibly beautiful this genre can be: music that leaves no one unmoved.
Westerkerk Schiedam
The album 'To The Thawing Wind', released under the wings of TRPTK, contains eleven songs, ten of which are sung solo and one of which has the form of a duet. A special role is played by the great acoustics of Schiedam's Westvestkerk: a space that literally gives an extra dimension to this vocal music. Listen to the powerful 'Reluctance', the impressionistic 'Going for Water' and the solid outbursts of baritone Shea Owens in 'Pan with Us'.
Note the subtly supporting piano playing of Artem Belogurov in 'Stars', 'Snowflakes' and the lyrical 'Wind and Window Flower'. More than impressive is the vocal duet in 'Peony': music that reverberates for seconds. Of particular note is the subtle musical translation of Emily Dickinson's 'Have You Got a Brook In Your Little Heart', in which soprano Madison Leonard and the pianist seem to seek out silence literally and figuratively.
The fierce forces of nature are palpable in the title track "To the Thawing Wind," starring an almost ecstatic Shea Owens. An extremely emotional moment that transitions into the more relaxed 'Now Close the Windows'. Almost meditative is the closing 'Descending into Dreams', with a deeper than deep reaching baritone.
From highlight to highlight
'To The Thawing Wind' has become a production that literally carries the listener from peak to peak. An album that is given extra lustre by the splendid recording of TRPTK engineer Brendon Heinst, who is given the final word:
"Nothing is as recognizable to us as the human voice. As a human being you have been conditioned from birth to listen to voices, so you soon hear if it is even a little bit wrong. By combining advanced microphone techniques with state-of-the-art high-end recording equipment, we ensure that you can experience the album as if the musicians were standing in your living room. And even make the voices sound hyper-realistic. As a result, you get an unparalleled sense of being there."
Thoughts from the Composer
In the still moment between dusk and dark, a single note well-played on a musical instrument is a thing of beauty all by itself.
An important decision for an artist is the choice of "depicting the world as it is, or the world as you want it to be?"
I believe that one aspect of the 'balance of nature' applied to music is the consonance and dissonance relationship. Take into consideration both ends of music making: the creation, and then the ear and mind of the listener. Music without the spice of dissonance can grow tedious. Why? I think because it is void of an option that is a key component to motion, and music, dependent on time, relies on time, relies upon motion. A combustion engine creates motion by means of compressing a mixture of fuel and air, ignited by a spark in a confined space. Imagine the fuel/air mixture as consonance, and then introducing the spark as dissonance. The result is an explosion which converts to power, or driving motion. Dissonance and consonance – one without the other has a plateau effect. Nature abhors a vacuum but, I think, is not to keen on plateaus either.
For me, striking a balance between the two, depending upon the musical message at hand, is essential. Especially for the past 160 years or so since Liszt's first 12-tone row, the proportion of dissonance in the creative part of the equation has increased in line with man's desire to explore. On the other side, the human ear has not kept apace – those humans who resist acceptance of what they consider to be chaos can be left behind with their need for a degree of resolution.
I think there is a void in every human waiting to be filled. The lucky begin filling it early on with art, something that guides the soul and subsequent interactions with humans and nature. I think education would be better served to take this more seriously – the building of a wholesome and emotionally stable character. For many, religion is a factor in this process. For some, it is contained in every fiber in the body. I cannot imagine a world without music or art.
— Paul Edward Gay
Contributing Artists
Madison Leonard is an American singer who believes in the power of musical storytelling to buoy the human spirit. On the operatic stage, her roles include Gilda, Susanna, Adina, and Juliette, and in 2018 she was named a winner of the Grand Finals of the Metropolitan Opera National Council Auditions. As a lover of poetry, she delights in art song recitals and was honored to bring these songs to life with such fine colleagues. She has been blessed with many incredible teachers, mentors, and opportunities to grow in her burgeoning career. She currently resides in St. Gallen, Switzerland with her husband Shea Owens. For more information on performance credits and upcoming engagements, visit madisonleonard.com or her profile at stagetimearts.com.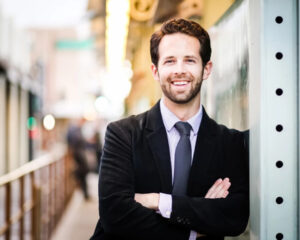 American Baritone Shea Owens finds joy in the ever-evolving nature and newness of a musician's work—whether that entails premiering new music or sharing a classic with someone hearing it for the first time. Along with traditional operatic and concert work, he especially enjoys the challenge and novelty of interpreting the works of living composers. Mr. Owens believes in the importance of bringing music to audiences of all kinds, especially children. He is currently a member of the soloist ensemble at Theater St. Gallen, and lives in Switzerland with his wife, soprano Madison Leonard. For more information about him and his future performances, please visit sheaowens.com or his profile at stagetimearts.com.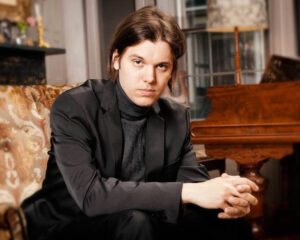 Artem Belogurov is equally at home at the modern piano, the harpsichord, the clavichord and the many varieties of historical pianos. His repertoire ranges through four centuries of solo, concerto, and chamber repertoire. Based in Amsterdam, he performs in Europe, North America, and Japan as a soloist as well as with his regular duo partner, cellist Octavie Dostaler-Lalonde, and his chamber ensemble Postscript. Artem is avidly interested in research, particularly relating to Romantic performance practice, and enjoys experimenting with and reviving forgotten expressive devices. This is his third album for TRPTK. To learn more about him and his projects, please visit artembelogurovmusic.com, postscriptensemble.com, and romanticlab.com.
Behind the Scenes: Recording songs by Paul E. Gay
By Brendon Heinst on February 15, 2020
I just got back from this recording session and just had to write about it. It's just been so much fun to work with these incredible musicians and composer Paul Edward Gay, who's written songs based on poetry by Robert Frost, Emily Dickinson, and himself.
The location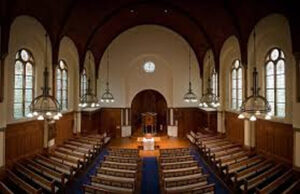 To record these beautiful songs at, the four chose the Westvest90 church in Schiedam, in the southwest of our country (near Rotterdam). This church is famed for its very well-balanced acoustics – not too overly acoustic, yet what's there is very warm and pleasant to the ear. This is mainly due to its relatively humble size and the fact that most surfaces are made of wood. Another great benefit of this church is that you're able to move the benches, making you able to shift the acoustics by a fair amount.